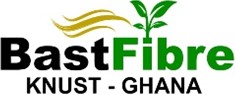 The KNUST Bast Fibre Research and Development Group is the first multi-disciplinary research group in Ghana poised to explore the bast fibre crops for research, development and commercialization.
The KNUST Bast Fibre Research and Development Group was created in 2019 from research activities on the bast fibre crops which began in 2010 with roselle (Hibiscus sabdariffa), then later, kenaf (Hibiscus cannabinus) and jute (Corchorus olitorius and C. capsularis), the other bast fibre crop being Congo jute.
Our research combines genetics, plant breeding, biochemistry, crop physiology, horticulture and technology for cultivar development; biochemistry and microbiology for fibre processing; and agribusiness and socioeconomics for management of bast fibre enterprise. We focus on traits such as agronomic performance, fibre yield, fibre quality, seed yield, seed quality, and disease resistance. In the face of climate change, the carbon dioxide sequestration potential of kenaf, a feature which aligns with the greenhouse gas reduction strategies of the Paris Agreement and SDG 13, is also in the heart of the Group's research. 
In cultivar development, five genotypes with superior performance in fibre yield, fibre quality, and seed yield have been produced and are available for commercial production and fibre processing. Good fibre quality, which is the ultimate in fibre production, relies on optimum physiological development of the crop, and biochemical changes and microbiology. 
In biochemistry and biotechnology, we use scientific methods to identify retting microflora with pectinase and ligninolytic activity to enhance efficiency of retting and degumming of fibres.
In materials engineering, we use state-of-the-art equipment to determine fibre quality.
Our agribusiness component focuses on preparation of business plan to move the seed and fibre products from the laboratory, field experimentation and processing to product development and marketing.
We provide consultancy services in bast fibre crop plantation development, fibre production, assessment of fibre quality in terms of mechanical strength, and assessment of seed quality to entrepreneurs in bast fibre trade in a sustainable environment. Our current products include five kenaf cultivars ideal for seed or fibre production.  Other services include seed production and multiplication, project development, management of outgrower development scheme, and development and management of bast fibre and related enterprises. A key component of our activities is to train students in plant breeding and genetics, biochemistry, and biotechnology of the enzymes of retting cultures, agronomy, materials engineering, environmental science and agribusiness.
Members
This Group includes a plant breeder and geneticist, a biochemist, an agronomist, a plant pathologist, a climate scientist and environmentalist, a materials engineer, a mechanical engineer, a plant biologist, an agricultural economist, a geographer and rural development expert, and an agribusiness professional.
Projects
Navrongo Field trial in 2018
Nkoranza Field trial for Royal Jute Company, Kumasi, in 2020.
Kumasi Field trial in 2019