The Food Science and Technology Department, KNUST in collaboration with enviroSAFE Ghana Ltd., trained the Kitchen Staff of Aqua Safari Resort at Ada, on food hygiene and safety. The short course held on 6th June, 2019 was led by Dr. Jacob K. Agbenorhevi (the training coordinator) and Dr. (Mrs.) Gloria Ankar-Brewoo (Lecturer in Food Hygiene & Sanitation).
The KNUST Food Hygiene Certificate Course started since 2015. The objective of this programme is part of the Departments' collaboration with the Food and Hospitality Industries for capacity training and to help curb health-related problems like cholera, listeria, salmonella and others, which are linked to improper/unhygienic food handling and storage.
The course content include: importance of food hygiene and safety,  laws governing food hygiene, foodborne illness, how food becomes contaminated, HACCP, food preservation, storage and temperature control and preventing contamination through the 4C's – cross contamination, cleaning, chilling and cooking.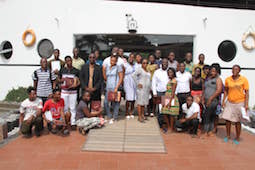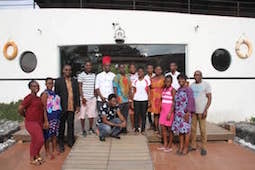 Thirty-seven (37) participants were awarded KNUST Food Hygiene Certificates and Course Manuals. The training will also be arranged for the Catering Staff on another day.
EnviroSafe Ghana has previously engaged the Team from the Department of Food Science and Technology, KNUST to organize the Food Hygiene Short Course for various Catering Staff/Food Handlers. It is expected that this will continue to to ensure safer food and hygienic environment to all workers and stakeholders.
According to Mr Yaw Banahene, Managing Partner at enviroSAFE Ghana and HSE Consultant for Aqua Safari, this training marks  the implementation of a comphresive health and safety program at the resort for the benefit of guests and employees. They  also want to expand to the Ada township and train all the food sellers as part of their corporate social responsibility.