The Faculty of Biosciences, College of Science (CoS) KNUST has organized two workshops on educational assessment, measurement and curriculum development the 2nd and 9th February 2022 at the Allotey Auditorium, Aboagye Menyeh Complex, KNUST.
The Provost, Prof. Leonard K. Amekudzi and the Dean of Faculty of Biosciences (FBS), Prof. (Mrs.) Antonia Y. Tetteh in their opening remarks indicated that recognizing the importance of the topic, though initially arranged for FBS, they both agreed and decided to make it a college seminar/workshop for all Seniors Members in the College of Science.
The first workshop was facilitated led by Dr. Paul Butakor (from the Department of Teacher Education of the School of Education and Leadership, University of Ghana) and focused on educational assessment and measurement. Gathering acceptable evidence on students' learning is critical to instructional decision-making. This places educational assessment and measurement at the heart of any teaching and learning endeavour. This workshop equipped educators with the competencies and skills for developing SMART learning objectives and outcomes, planning, constructing, assembling, and administering a variety of educational assessment instruments and formats. It also developed the capacity of staff to identify the characteristics of tests and issues of validity and reliability which form the basis for assessment and the interpretation of test scores.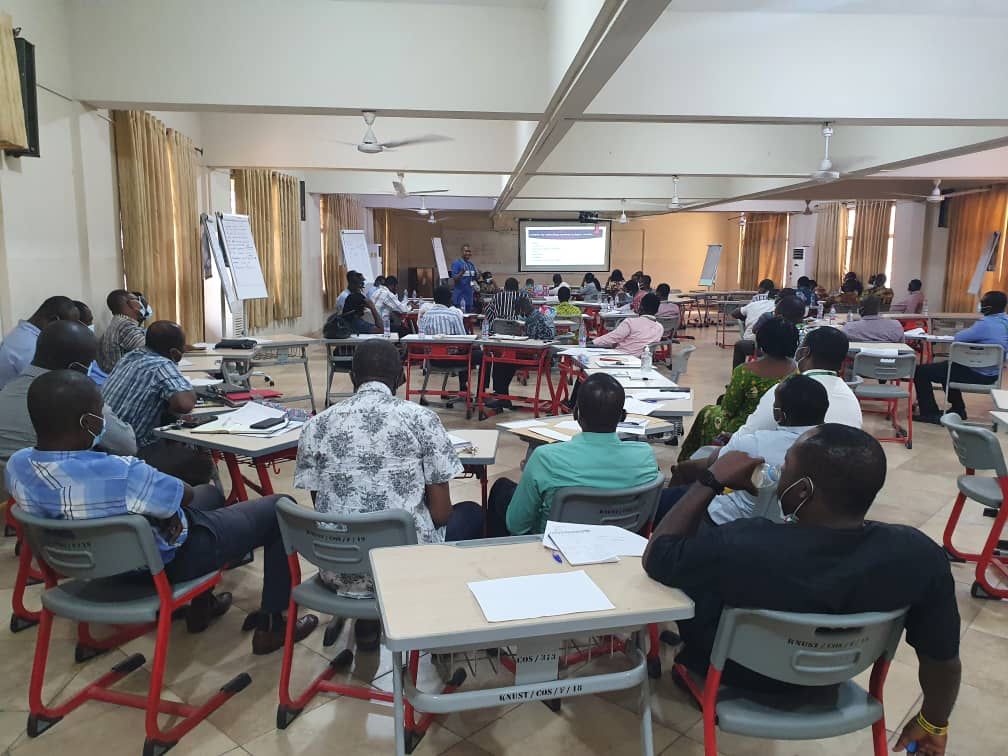 The second workshop was facilitated by Dr. Winston Abroampa (Faculty of Education, KNUST) and focused on Curriculum development. Educational Programmes or curricula for tertiary institutions are essentially developed to equip students with requisite knowledge, skills and competencies for the world of work and also to enable them contribute meaningfully to society. These curricula are therefore developed considering a country's critical human resource needs, challenges, interests and aspirations; generally educational programmes developed should be consistent with a country's development agenda. Developing a curriculum is therefore guided by gathering adequate evidence of the foregoing through a thorough needs assessment. This workshop provided staff with practical application of skills necessary for formulating philosophy that prioritizes needs for the curricula, developing purposes and models of progression and all other critical components using the backward designing model. 
Prof. (Mrs.) Ibok Oduro and Prof. Bernard W.L. Lawson chaired the first and second parts of the workshops, respectively. They both emphasized how practical and useful the seminars were, and encouraged active participation and implementation of what has been learned. A total of 100 staff participated in both workshops and they expressed that it was very enlightening and hoped to put into practice to improve the educational assessment, measurement, and curriculum development.
The workshops were organized by the Faculty of Biosciences Seminar Committee.