The Department of Computer Science, College of Science, in collaboration with the Center for Capacity Building and Innovation (CCBI) in KNUST organized a 4-day short course on Cybersecurity and Digital Forensics, from the 22nd to the 25th of November, 2021. The Programme took place at the Computer Lab (FF17) in the Aboagye Menyeh Complex, KNUST.
The programme started with an opening ceremony led by the Provost of the College of Science, Prof. Leonard K. Amekudzi and Head of CCBI, Mr. Yaw Amo Sarpong. Prof. Leonard Amekudzi encouraged the participants to fully involve themselves in the programme. "I encourage the participant to take their participation very seriously and ask the necessary questions", he said. Mr. Yaw Amo Sarpong, in his speech, said that the short course was the maiden short course from the Department of computer science. He also gave a brief summary of the background and capabilities of CCBI.
The objective of the course was to bridge the gap between academia and industry by equipping participants with the skills needed to stay responsive and proactive against the high rates of cybercrimes in the country. The course covered aspects of ethical hacking, pen testing, mobile digital forensics, incident handling and reporting, and cyber security best practices. The subject areas were well handled by experts in both academia and industry.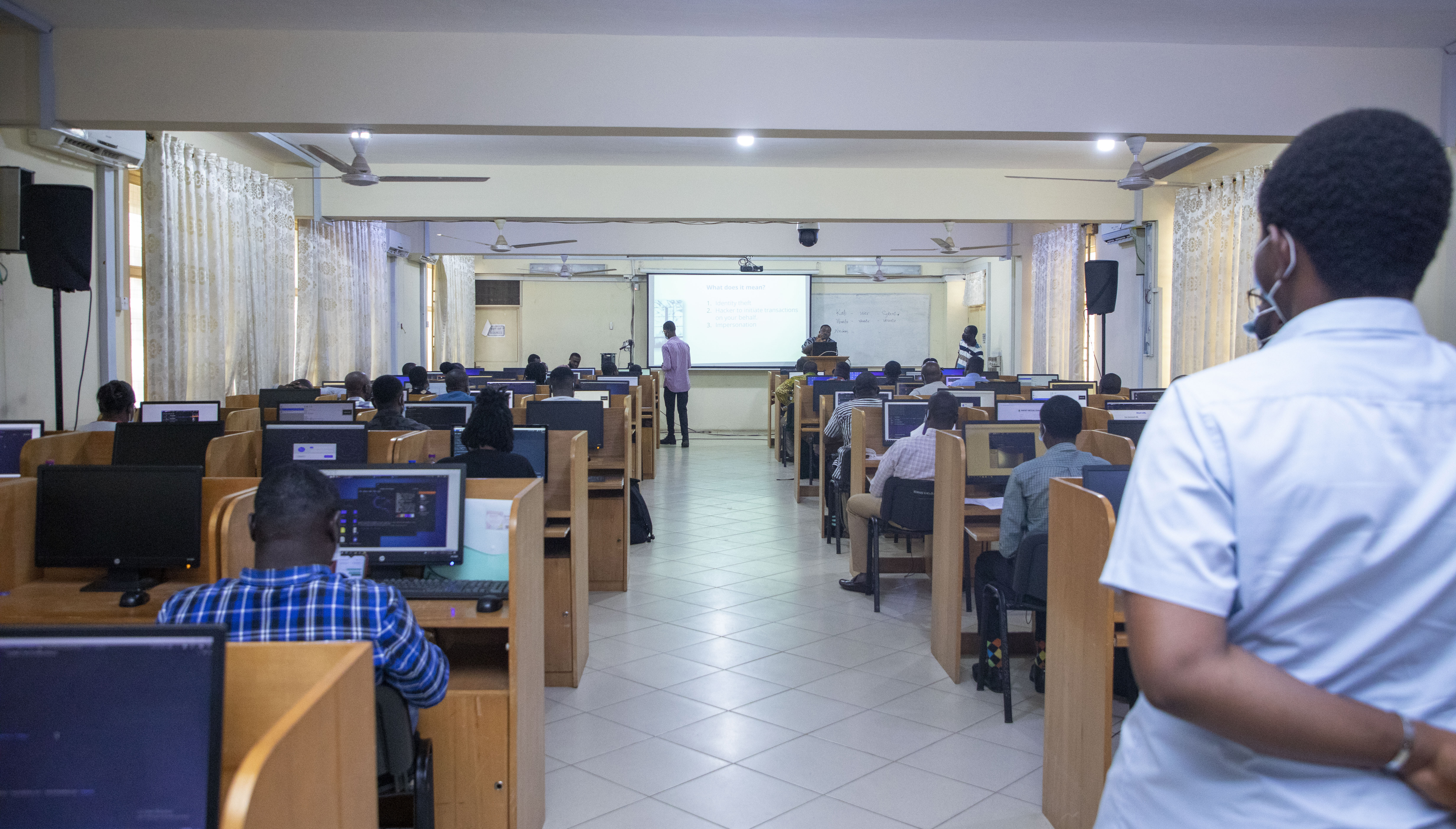 The facilitators of the programme were Dr, Emmanuel Ahene, Rev. Dr. Kwame Ofosuhene Peasah, Prof. Michael Asante, Dr. Dominic Asamoah, Dr. George Kofi Gabla. Ing Richard Densu, Eric Nii Sowah Badger and Mr. Sebastian Baafi. A total of 58 participants joined the course and among them 16 joined online while 42 joined on campus.
There were two international participants and also Ghanaian participants from the Banking Sector, Telecommunication Industry, Legal Firms, KNUST, FDA, Ghana Police Service, Ghana Immigration Service, VRA, and other sectors.
On the last day of the programme, Mr. Yaw Amo Sarpong encouraged participants to continue to partake in short courses. "You the participants have taken the first right step", he said and added that having certificates from short courses increases your chance of getting a job.
According to the organizers, the course will be organized again from 28th to the 31st of March, 2022 and an advanced course will also take place simultaneously from the 28th March to 1st April. 2022.
Certificates were awarded to participants at the end of the programme.
Some participants gave feedbacks and requested for an advanced course to be held.