Join us for an enlightening evening as the College of Science's Provost presents the highly anticipated professorial inaugural lecture, "Cracking the Climate Code: The Sub-Saharan Africa Revolution." This captivating event will take place on Thursday, 3rd August 2023, starting at 4:30pm prompt, at the prestigious Great Hall of the Kwame Nkrumah University of Science and Technology (KNUST).
🌍About the Lecture:
Cracking the Climate Code: The Sub-Saharan Africa Revolution" aims to shed light on the pressing issues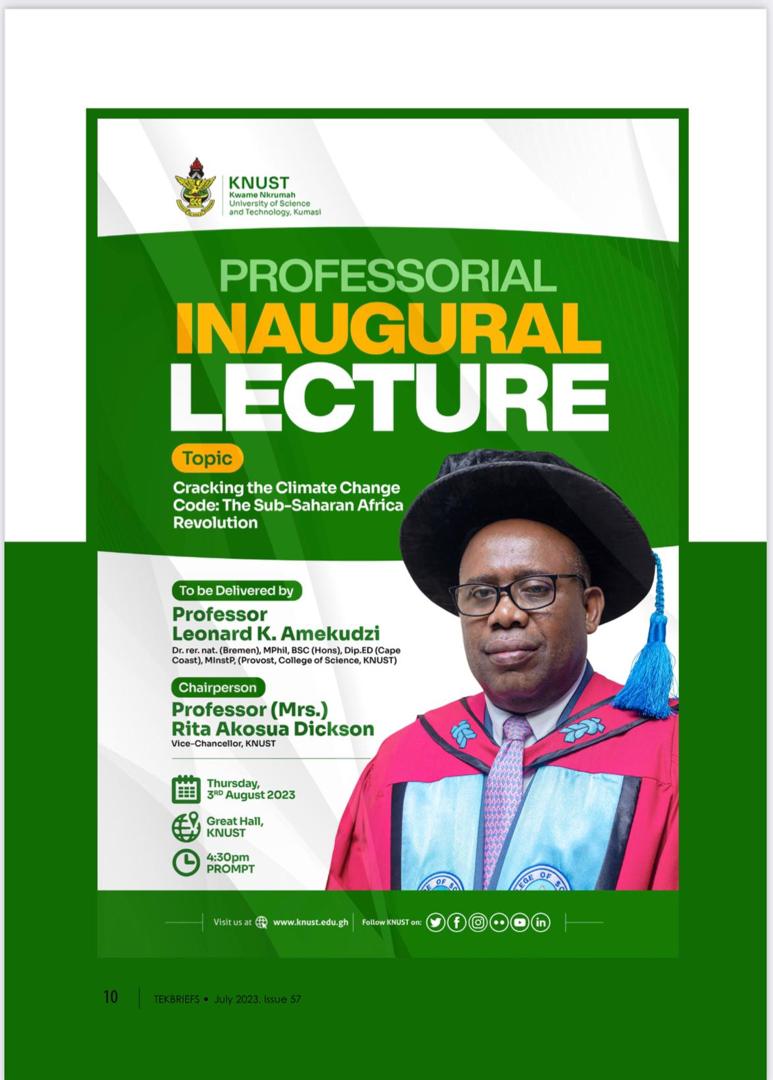 surrounding climate change and its specific impact on the Sub-Saharan Africa region. The lecture will delve into innovative approaches, potential solutions, and the role of scientific advancements in mitigating and adapting to these challenges. Don't miss this unique opportunity to gain valuable insights and engage with esteemed experts in the field.
🗓️ Date: Thursday, 3rd August 2023 
⏰ Time: 4:30pm prompt
📍 Venue: Great Hall, KNUST
Save the date and mark your calendars! This inaugural lecture promises to be an intellectually stimulating and thought-provoking experience. Attendees will have the opportunity to expand their knowledge and contribute to the ongoing discussions surrounding climate change and Sub-Saharan Africa's transformation.
Spread the word among your colleagues, friends, and anyone passionate about climate issues. Let's come together to decode the climate puzzle and explore the potential for a Sub-Saharan Africa revolution!