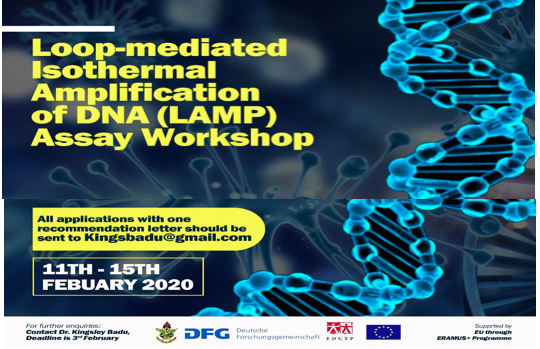 Molecular assays based on nucleic acid amplification techniques such as polymerase chain reaction (PCR) offer major advantages for the detection of pathogens; however, many of these systems are complicated and require specialised equipment, making them impractical to implement in resource-limited settings. LAMP is an emerging technology that allows DNA amplification at constant temperature through the use of a DNA polymerase that possesses strand displacement activity, thus removing the need for heat denaturation of double-stranded DNA. In LAMP, 4 to 6 primers are used to detect 6 distinct regions of the target gene, making the technique more sensitive and specific than conventional PCR. As there is no need for different temperature cycles and therefore no need for a thermocycler, LAMP is also significantly quicker, simpler and cheaper than PCR. For these reasons, LAMP is gradually replacing microscopy and PCR as the preferred assay used for rapid diagnosis of infections like malaria and tuberculosis in resource-limited or field settings.
This workshop will provide participants with the knowledge and skills to carry out LAMP assays independently. The course is aimed at those with prior experience in molecular techniques like PCR and will combine an understanding of the theoretical basis of the assay with practical demonstrations to provide a solid foundation for the use of LAMP in their own work.
The course will be held at the Department of Theoretical and Applied Biology, KNUST in collaboration with the German Research Foundation (DFG). The workshop is free to attend and open to post-graduate applicants at KNUST.
Target Audience
Eligible applicants should have demonstrable experience in molecular techniques like PCR, and should be KNUST graduate students. Students from the Departments of Microbiology, Biochemistry and Molecular Medicine are especially encouraged to apply.
How to Apply
Interested applicants should send a copy of their CV and a letter of motivation explaining how participation in the workshop will aid in their work, an abstract of their current work and a letter of recommendation.
All applications with one recommendation letter should be emailed to Dr. Kingsley Badu via KingsBadu@gmail.com
Places are limited and will be awarded based on merit.
Deadline: 3rd February 2020