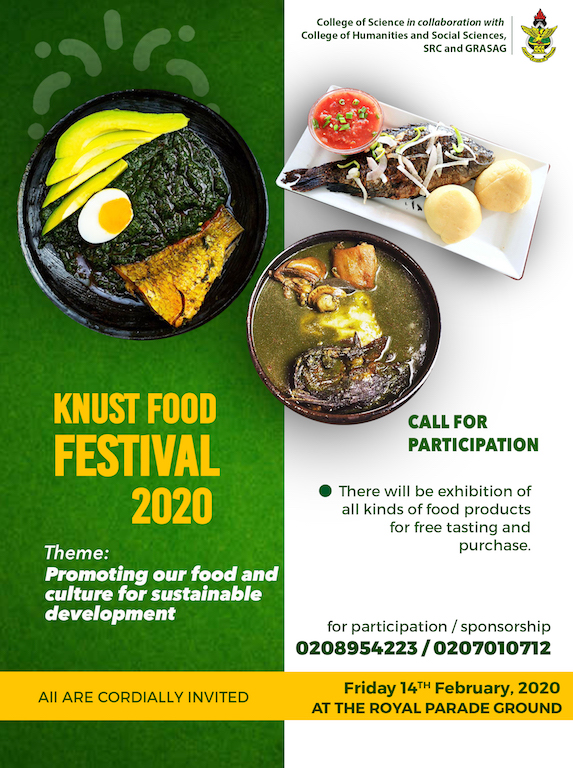 The College of Science in collaboration with the College of Humanities and Social Sciences, SRC and GRASAG are organizing the KNUST FOOD FESTIVAL 2020 on Friday 14th February, 2020 from 10am to 5pm.
The theme is "Promoting our food and culture for sustainable development".
The Festival is aimed at celebrating our country's diverse Food Heritage/Culture and New Food Products developed. It will also serve as platform to educate the public on the basic science behind food preparation good nutrition and food safety. The festival is also aimed at sensitizing both industry players and consumers about eating lifestyle and pragmatic steps to enhance good nutrition/health among others. There will an exhibition of all kinds of food products for free tasting and purchase.
In attendance will be stakeholders from various institutions including academia, industry, restaurants, government representatives, students and the general public.
Presentations and Open Forums
Food Fair and Cooking Competition
Maggi Education/Activation
Exhibition and Cultural Performances
Various Prizes for Participants and Winners
All are cordially invited.
To sponsor or participate, please contact the Local Organizing Committee on +233 0208954223 / +233 0207010712
KNUST FOOD FESTIVAL 2019 VIDEO
KNUST FOOD FESTIVAL 2019 VIDEO