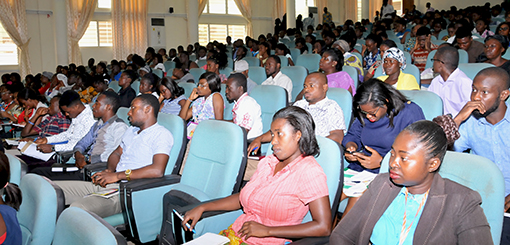 The Department of Food Science and Technology of Kwame Nkrumah University of Science and Technology (KNUST) in collaboration with Litfahm Consultancy Services held the first National Conference on Food Fraud on the 27th of January, 2016. The conference was on the theme "Combating Food Fraud: A Multi-Disciplinary Approach". The goal of the event among other things was to sensitise both industry players and consumers about food fraud and encourage new ideas and pragmatic steps on how to effectively fight it.
The conference attracted participants from the Ghana Standards Authority, Food and Drugs Authority, Customs, Excise and Preventive Service, food vendors, food processors, and other stakeholders.
In his welcome address, Professor Kwasi Obiri Danso, stated that food fraud had become topical especially with recent happenings in Ghana and the whole country was alarmed. The Department therefore found it necessary to expose the practice and the need for education and protection of citizens. It was therefore a timely intervention for all and hoped it would meet its intended objectives with discussions by all stakeholders.
Mr. Prince A. Opoku, Regulatory Officer at the Food and Drugs Authority who was the keynote speaker defined food fraud as economically motivated adulteration which encompassed the deliberate and international substitution, addition, tampering or misrepresentation of food, food ingredients, food packaging or false or misleading statements made about a product for economic gain (Spink and Moyer, 2011). Adulteration and misbranding, according to him, constituted food fraud.
Though usually harmless, he stated that some food fraud incidents could result in serious public health consequences. The primary motive in selling a fraudulent food item was greed since such products were of lesser value and sold at a comparatively higher price. The practice, he noted, cheated consumers out of their money in that consumers were made to pay for something they were not getting.
Mr. Opoku said it had implications for the food industry. Again cheaper fraudulent food products labeled as authentic undercut legitimate industry prices making it difficult for honest companies to compete in the market place and recoup the expenses they incurred which mostly led to the collapse of honest companies. Again, the practice could lead to serious health hazards and death.
He therefore called for intelligence gathering, information sharing, monitoring the traceability of food ingredients and improved food fraud detection methods to arrest the situation.  Mr. Opoku also assured Ghanaians that palm oil on the Ghanaian markets were now safe for consumption, since there was no Sudan IV dye in the oil. He said the dye contained harmful substances which could cause urinary bladder cancer and following the discovery of the dye in most palm oil, a lot of people stopped patronizing local palm oil. However, the FDA had retrieved all such products and had put in place the appropriate measures to ensure the safety of citizens.
Mrs. Gloria Ankar Brewoo, a lecturer in the Department, in her presentation indicated that a lot of street foods in the Kumasi Metropolis notably fried rice, fufu, ampesi among others were prepared in unhygienic environments within a small space and with few cooking utensils. Vegetables and most foods were prepared and stored over long hours. In their research, they also discovered that most soups were prepared overnight and were left partially closed and left to rodents.
Mrs. Ankar Brewoo called for stiffer regulations and sanctions as their study revealed that most regulations were overlooked. Most food vendors and their helpers had not undergone health screening. She noted that most regulators overlooked important aspects during inspection and did not sanction vendors on humanitarian grounds.
She stated that with over 2000 food vendors in the Kumasi Metropolis, it was time serious attention, education and regulatory checks were carried out by all stakeholders to ensure the safety of foods and the health of consumers.
There were oral presentations from some researchers on whether food fraud was a reality. Their presentations also revealed several instances of food fraud on the market especially with processed foods. Powdered pepper, fish, tomatoes, groundnut paste among others were found to be adulterated with cola nut, dye, tomato seeds among others. These additives according to sellers made the powdered foods more attractive and thick.
Stakeholders and participants called on researchers for quick test kits to ascertain the quality of foods on the market.
The conference was sponsored by Quamma Foods Limited, Maslenda Fruit Processing Limited and Ennie Catering Services.